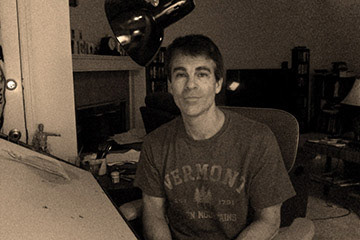 Chris, born in Columbia, South Carolina, was raised in that same medium-sized, southern college town. He earned a 4-year degree in Advertising (B.A. Journalism) at
The University of South Carolina
in May, 1988. Chris took the creative track in the journalism department, studying graphic design and minoring in Art.
Upon graduation, Chris went to work for an advertising agency as a copywriter and designer, and as a graphic artist for local print shops. In 1992 Chris left South Carolina to begin a long association with newspapers, working as a special section editor, illustrator and graphic designer. He worked in North Carolina and at two south Florida newspapers, before returning to South Carolina in 1998 to work in the Hilton Head Island region. From 2006-2009, Chris returned to Columbia after a 15-year absence and worked for a national outdoor sporting magazine — designing magazines, books and web related documents.
Chris studied life drawing at the
Columbia (S.C.) Museum of Art
in 2008. In May 2010 he earned a certificate in Web Design Tools at Midlands Technical College in Columbia.
In the Fall of 2010, Chris moved to the Atlanta, GA region and began working for
Lockheed Martin.
He still works there today in Lockheed's media department as an illustrator, graphic designer and occasional copywriter.
Chris has won several awards throughout his career with the media — including awards for design, illustration and graphics as presented by the
North Carolina Press Association, The South Carolina Press Association, The Florida Society of Newspaper Editors, The Florida Press Club
and
Lockheed Martin Aeronautics.
A life-long fan and creator of the art of comic books, storytelling and illustration, he continues to pursue his passion on a freelance basis. After submitting work to various publishers over a 15 years pan, Chris finally hooked up with the national small press publisher
Mecca Comics
in 2004 and fulfilled his life-long dream of getting his own comic book creation into print. The creator-owned character
Brother Destiny
was nationally distributed for two issues in 2004. During that period, he was able to work with former
Marvel Comics
creators Al Milgrom and Dick Ayers, as well as current Marvel Comics inker Greg Adams.
In 2008-2010, Chris collaborated with current
X-Men '92
writer Chad Bowers on the Bowers-created character
Dr. Impossible,
illustrating the Doctor's adventures in regionally distributed publications. He has also done work for the online comics publisher,
Flashback Universe.
He briefly illustrated Bowers' creator-owned character
Monster Plus.
Big influences on his work include Howard Pyle, Noel Sickles, Milton Caniff, Carl Barks, Will Eisner, John Romita Sr., John Buscema, Sal Buscema, Gil Kane, Neal Adams and, of course, Jack Kirby.
In 2014, Chris' first children's book,
Smedley and the Singing Sword,
went up for sale in digital format on Amazon.com.
Chris is currently at work on a new creator-owned comic book series.